Kapfenberg lives and breathes sports.
Kapfenberg provides excellent facilities for ngaging in a wide range of sports.
The ideal sporting infrastructure has made Kapfenberg famous as a sporting city at home and abroad. Our city combines professional sport with leisure sporting activities.
For many years, (inter)national professional athletes have prepared themselves for the coming season in several sporting disciplines in our sports centre. Football clubs such as Rapid and Austria Vienna, AS Roma, Everton FC, Fulham FC and AC Siena; the Austrian Men's and Ladies' Ski Teams; the Austrian Basketball National Team; Swimming and ice-hockey teams from both home and abroad value the unique combination of a sports centre with a hotel.
Kapfenberg has made a name for itself as a talent pool in the international sporting arena. It boasts a team sports academy, the youth excellence model and a multi-sports education program.
The philosophy of an open stadium is an example of this concept. Hobby athletes who aren't bound to a sports club also have open access to train at the Franz-Fekete Stadium.
Sport & Wellness
In addition to the stadium, the sports center also has an indoor ice rink and an indoor and outdoor swimming pool with a large wellness area. The brand new 25m indoor pool and the 50m outdoor pool make swimming a true pleasure. Swimmers can then relax and recuperate in one of the six sauna cabins.
Not just the sports center provides sporting facilities! There are many hiking trails, running, cycling and mountain biking routes in and around Kapfenberg where you can spend your free time.
Kapfenberg will make every sportsperson's dreams come true!

Price list Kapfenberg Sports Centre


---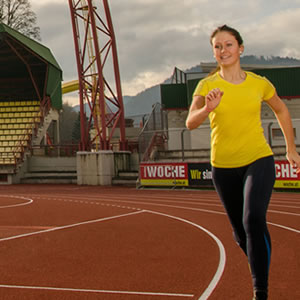 Sportzentrum Kapfenberg
Leiter Ing. Rene Ranner
+43 (0) 3862/22501-1500