Leisure activities in Kapfenberg
Based upon the concept of "Enjoying life to its fullest" Kapfenberg and its surrounding area provide a well-planned and broad range of leisure activities enabling you to plan your free time according to your needs.

"BadeWonne" / "Swimming Bliss" - Indoor and outdoor swimming centre
The Kapfenberg baths offers a great swimming experience for young and old. The 200 m² large and 32 °C warm adventure and wellness pool guarantees a water festival of superlatives with massage jets, whirlpools, a waterfall, grotto as well as fountains. 120 recliners and a closed resting area are available for undisturbed relaxation.
A 62 m long indoor/outdoor adventure slide with special effects is especially popular with children and the young at heart. Athletes like to dive into the 25 m sports pool and train their body as well as their fitness. After a strenuous working day or workout, swimmers can relax in the adjoining sauna area or solarium. Naturally, accessible for people with disabilities and attractive, family-friendly admission prices are a matter of course!
Contact:
BadeWonne - Hallen- und Freibad Kapfenberg
Johann-Brandl-Gasse 23 | 8605 Kapfenberg
+43 (0) 3862/22501 1509
www.kapfenberg.gv.at
"Diesel" Cinema Kapfenberg
A modern four-hall cinema in the heart of the old town, Lindenplatz 4, with a charming café and terrace.
Open every day.
Contact:
Dieselkino Kapfenberg
Lindenplatz 4 | 8605 Kapfenberg
+43 (0) 3862/22444
www.dieselkino.at
Paragliding & Tandem flights – GollnhubAIR
You would be surprised at how few steps it takes to take off on a paraglider with one of our experienced pilots. The moment your feet leave the ground is unforgettable. The landing follows a wonderful flight, which only takes a few quick steps, too!
Contact:
GollnhubAIR
8605 Kapfenberg
+43 (0) 664/7605686
This email address is being protected from spambots. You need JavaScript enabled to view it.
www.gollnhubair.com
Scenic Flights
Enjoy Kapfenberg and the Hochsteiermark region from the sky. From the Hochschwab massif to the Mürztal valley. A scenic flight (e.g. around the Hochschwab massif) Kapfenberg – Seewiesen – Aflenz Staritzen – Hochschwab peak – Sonnschienalm – Tragöß: € 155 per person (same price for 2 passengers), takes 30 minutes.
Contact:
Sportflugplatz Kapfenberg
8605 Kapfenberg
+43 (0) 3862 31137
This email address is being protected from spambots. You need JavaScript enabled to view it.
www.flugplatz-kapfenberg.at
Indoor Tennis Courts Kapfenberg
There are 6 tennis courts available to guests. The courts are a carpet with a polymer granulate surface, making the courts similar to clay courts in terms of playing characteristics.
Opening times: Daily from 08.30am – midnight, reservations possible.
Contact: Tennishalle Kapfenberg
Kendlbachstraße 8 | 8605 Kapfenberg

+43 (0) 3862/222888 oder +43 (0) 699/17337766

Funpark Kapfenberg
Swings, slackline, roofed seats and climbing frames secured with rubber mats, skating ramps and a lot more - state of the - art equipment for people who want to be keep fit and active in their free time.
Bows and Arrows
3D course BSV "Comantchi". Our course is at 1000m altitude in the beautiful Mürztal valley.
Info: 30 3D targets, compound allowed, equipment for hire available for ca. 12 people (please book ahead). Bookings under tel.: +43 664 3986700, registration, course guide and rules directly at country bar (buschenschank; roofed area); warm-up range and parcours start are opposite the buschenschank; sufficient parking available; rest area at Target 17; we recommend firm shoes. The course is not too steep but can get slippery in wet conditions ;-)
Contact: BSV Komantschen
Wieden 19 | 8643 Wieden

Oliver Baumgartner: +43 (0) 664 3986700

Stables and pony riding at Birkenhof Parschlug, Kapfenberg
The grounds are in a beautiful, quiet spot 4km away from Kapfenberg, which my husband and I took over in 2015. The stables were built from 1920 to 1924 and have been in our family since 1980. They were renovated in 1986 and, up till 1993, "Birkenhof" used to be popular with families for weekend getaways. After several years, we opened Birkenhof again for horse riders and those who would like to start riding. Please read about what we offer – especially for children – on our website.
See you soon at the Birkenhof
Contact:
Reitstall und Ponyreiten Birkenhof Parschlug/Kapfenberg - Nicole Reitbauer
Haritzmeierstraße 14 | 8605 Kapfenberg
+43 (0) 664/4101121
This email address is being protected from spambots. You need JavaScript enabled to view it.
www.ponyreiten-birkenhof.at

Golfclub St. Lorenzen i.M.
The Golf Club St. Lorenzen has developed a reputation of refined taste and relaxation due to its high quality standards and the location in this wonderful leisure area. The combination of a natural experience with a sporting challenge makes every round of golf a special, unforgettable experience.
Contact:
Golfclub St. Lorenzen
Gassing 22 | 8642 St. Lorenzen i.M.
+43 (0) 3864/3961
This email address is being protected from spambots. You need JavaScript enabled to view it.
www.gclorenzen.at

Fishing Kapfenberg/St. Lorenzen
At the leisure lake St. Lorenzen im Mürztal. Fish species: chub, Amur carp, pike, tench, carp, sturgeon, zander, catfish, silver carp, perch. Please respect pool/lake rules (check website). )
Contact:
Freizeitsee St. Lorenzen - Horst Pflanzl
Zur Freizeitanlage | 8642 St. Lorenzen i.M.
+43 (0) 676/9417386
This email address is being protected from spambots. You need JavaScript enabled to view it.
www.freizeitsee-lorenzen.at

Bathing at St. Lorenzen Leisure Lake
This beautiful bathing area is only 500m away from the S6 motorway exit St. Marein/Mürztal. An idyllic site awaits you that is over 5ha large. The water surface area is over 3.7 ha.
The quiet location, a mowed lawn for sun-worshippers, a lake with drinking water quality and jetties all make for a perfect day's bathing.
So that both the little ones and sporty guests get their fair share of action, there is a playground and a beach volleyball court. Flasch City and the Lake Restaurant offer food and drinks. You can just sit back and enjoy the swimming, fishing and even have a party away from the usual crowds here.
This year there is an entertainment program for rainy days. An indoor playground will fill all children's hearts with joy.
Contact:
Flasch City am Freizeitsee St. Lorenzen
Seestraße 4 | 8642 St. Lorenzen i.M.
+43 (0) 664/1976742
+43 (0) 664/88165001
This email address is being protected from spambots. You need JavaScript enabled to view it.
www.flaschcity.com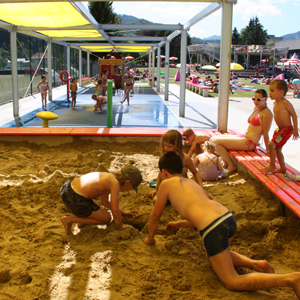 ---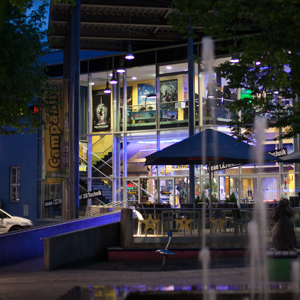 ---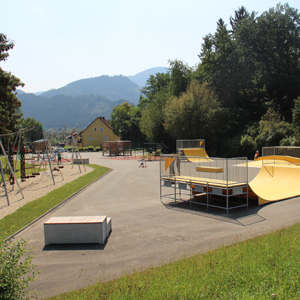 ---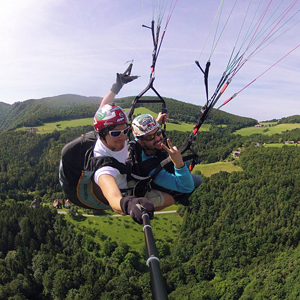 ---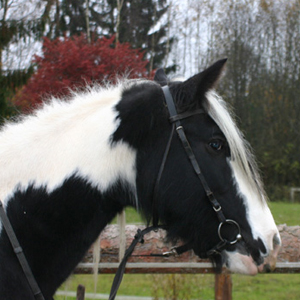 ---