Kapfenberg Voucher
A gift for every occasion!
Whether dinner, new styling, chic outfits or groceries - with gift vouchers from the Kapfenberg shopping region, your loved ones have a choice of around 170 shops and can buy what they really need. The €5 and €10 vouchers of the shopping region are available in more than 20 outlets and they are issued in suitable voucher envelopes.

Our tip:
Give the vouchers of the shopping region Kapfenberg also to your employees, since these are tax-saving for employers, as under contractual employment, an amount up to € 186 is non-taxable income.

ATTENTION
The new edition of the Kapfenberg vouchers no longer has an issue stamp – instead only an edition date, e.g. Edition October 2015 - valid for 5 years! Vouchers that are older, according to the date of issue, than 5 years, can be extended in the W&T office from Monday to Friday, 8.00 to 12.00 and 14.00 to 17.00 o'clock.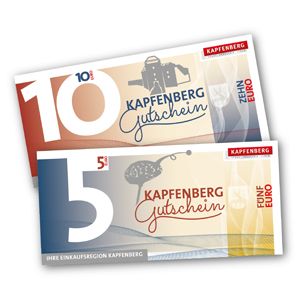 ---